Discover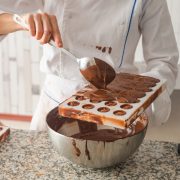 Singapore, a cosmopolitan island teeming with vibrancy and diverse culture, is where we concoct our wickedly delicious chocolate recipes. Our team of staff are brought together by their passion and love for all things chocolate. We take special care in every step of the chocolate making process, from sourcing of the finest ingredients to producing the best chocolates.
To deliver quality taste to our chocolate-loving fans, every piece of our chocolate is made with dedication and lovingly handcrafted to perfection. We build on our rich tradition and innovative products to bring chocolate recipes to life that are guaranteed to leave you coming back for more!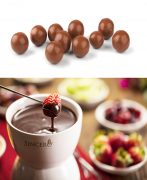 Hosen Chocolate is a wholly owned subsidiary of Hosen Group, a listed FMCG company on the Singapore Stock Exchange. We are into the fine art of creating gourmet chocolates to serve the needs of end consumers and industry professionals such as restaurants, hotels, caterers, bakery chefs and even chocolatiers.
Through Hosen's very own research & development centre and technologically advanced machineries, we provide customisable products with an innovative twist to suit our clients' needs. We pride ourselves on being HACCP and Halal Certified and hence, you can be rest assured that our products adhere to stringent quality controls and approved specifications.
Our business has leveraged on this strength and expanded rapidly from a little red dot to where our chocolate products can be found in various parts of the world.
FOOD SAFETY POLICY
It is Hosen Group's Food Safety Policy:
– To produce chocolate using the highest quality ingredients and raw materials made available to us.
– To provide quality products that consistently meet customer expectations
– To safeguard consumers' health well-being when they consume our product
– To comply with Malaysia Food Act 1983, Food Regulations 1985 and Food Hygiene Regulations 2009
– To comply to all statutory requirements of the respective importing countries
– To comply with food safety management standard i.e. FSSC 22000 Scheme Version 5, ISO/TS22002-1, ISO22000: 2018, MS1480:2019
– To maintain and regularly review documentation and records
– To provide a framework for setting and reviewing the objective of FSMS
Food safety is paramount to Hosen Group's business. We are committed to uphold this product safety standard by adopting and maintaining FSSC 22000 Food Safety Management System and HACCP MS 1480:2019 Standard.
– Each process step will be analysed to identify the potential food safety hazards.
– All critical control points (CCP) will have monitoring procedures and parameters documented, as well as records kept and corrective actions detailed.
– Employees at all levels of the organization will be communicated on our Food Safety Policy.
– External communication with regulators, suppliers, customers and contractors will be maintained.
All employees are provided with the information, training and tools necessary to do their job in a hygienic and compliant manner. Each employee is encouraged to play a vital and responsible role in maintaining a safe and healthy workplace through:
– Involvement in the workplace's health and safety system.
– Abiding to correct procedures and operate equipment in a safe manner.
– Wearing protective clothing and equipment as and when required.
– Helping new employees, trainees and visitors to understand the right safety procedures in the workplace and why they exist.
– Informing the manager-in-charge immediately of any health and safety concerns.
Hosen Group is committed to continually improve the effectiveness of our quality and product safety management systems.
Contact Us
Headquarters
267, Pandan Loop, Singapore 128439
Tel: +65 6595 9222 Fax: +65 6779 0186
Chocolate Factory
No. 19 & 20, Jalan Murni 3, Taman Perindustrian Murni Senai, 81400 Senai, Johor.
Tel: 607 571 2022 Fax: 607 5909 792
We look forward to hearing from you, please fill up the following: