Discover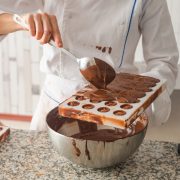 Singapore, a cosmopolitan island teeming with vibrancy and diverse culture, is where we concoct our wickedly delicious chocolate recipes. Our team of staff are brought together by their passion and love for all things chocolate. We take special care in every step of the chocolate making process, from sourcing of the finest ingredients to producing the best chocolates.
To deliver quality taste to our chocolate-loving fans, every piece of our chocolate is made with dedication and lovingly handcrafted to perfection. We build on our rich tradition and innovative products to bring chocolate recipes to life that are guaranteed to leave you coming back for more!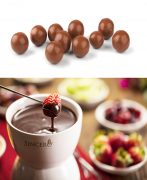 Hosen Chocolate is a wholly owned subsidiary of Hosen Group, a listed FMCG company on the Singapore Stock Exchange. We are into the fine art of creating gourmet chocolates to serve the needs of end consumers and industry professionals such as restaurants, hotels, caterers, bakery chefs and even chocolatiers.
Through Hosen's very own research & development centre and technologically advanced machineries, we provide customisable products with an innovative twist to suit our clients' needs. We pride ourselves on being HACCP and Halal Certified and hence, you can be rest assured that our products adhere to stringent quality controls and approved specifications.
Our business has leveraged on this strength and expanded rapidly from a little red dot to where our chocolate products can be found in various parts of the world.
Contact Us
Headquarters
267, Pandan Loop, Singapore 128439
Tel: +65 6595 9222 Fax: +65 6779 0186
Chocolate Factory
No. 19 & 20, Jalan Murni 3, Taman Perindustrian Murni Senai, 81400 Senai, Johor.
Tel: 607 571 2022 Fax: 607 5909 792
We look forward to hearing from you, please fill up the following: